Description
OVERVIEW
This series of beveling machine tools were developed aims at large quantities of pipe end beveling processing,It is new equipment of pipe prefabrication. Bevel pipe fast, Auto-center hydraulic clamping system, New CNC system, main machine auto-up/down system to suit different diameter pipes to use, suitable for bevel processing of all kinds of carbon steels, stainless steels, alloy steels, etc. Can bevel different types of shape according to customer's requirement: U, V, J, Y, X,etc. excellent quality of beveling, efficient working, easy to operate.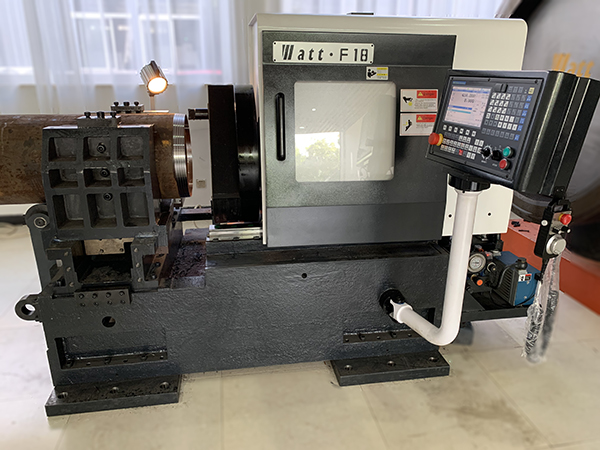 FEATURES
1.High speed pipe beveling machine
2.Suitable for large quantities of pipe beveling process
3.New CNC system, one tool post can do compound type beveling shape
4.Operate in touch screen, one button to move automatically, operate easily.
5.Can match pipe positioning system to achieve pipeline beveling process.
6.Machine up/down design, perfectly adapted to different diameter in the same pipe conveyer
7.Hydraulic clamping, double V clamping block, clamping at same time by hydraulic cylinder
8.Clamping force: adjustable from 0.5 ton to 20 ton, suitable for pipe with different wall thickness
BEVELING SHAPE

*other beveling shape, angle and pipe material, please declare before order
SPECIFICATION
Model
Range
Thickness
Mix.length
Rotating
Motor Power (kw)
OD mm
ID mm
mm
mm
rpm
Cutting
Clamping
feeding
Up/down
F6
25.4-168
16-168
4-20
250
200
5.5
0.5
0.75
1.1
F18
168-457
125-457
5-20
250
140
5.5
0.5
0.75
1.1
F32
457-820
414-820
8-25
500
70
11
2.2
2.0
-
*Above parameters just for reference only, not acceptance criteria
Power requirement:380V,50-60Hz,3P
Feeding travel: 80mm
Tool post quantity.:1
Angle deviation:±0.5
Vertical deviation:±0.5mm @300mm pipe OD
TOOLING
Options of form type and insert type tools
Available for cutting all thickness and material of pipe and beveling at any required angle.
Insert Type

Material: Tool holder:40Cr ; Insert: Carbide
kinds:Beveling,Double beveling,Compound beveling
Angle:0°-45° out side and inside


OPTION PIPE CONVEYER
According to the need to customize.
Optional pipe conveyer and automatic length setting systems, be formulated with highly efficient logistics system, and form
pipe cutting and beveling prefabricated production line
*Customizable size and option the automatic or manual feeding.
| | |
| --- | --- |
| Front pipe conveyer | Exchange system |
| | |