Description
OVERVIEW
X series Elbow beveling machine were developed aims at large quantities of pipe elbow and pipe fitting beveling processing. It is new and efficient equipment for pipe elbow, pipe fitting, short pipe,T Junction and four-way Junction. Auto-center hydraulic clamping system, New CNC system, suitable for bevel processing of all kinds of carbon steels, stainless steels, alloy steels, etc. Can bevel different types of shape.excellent quality of beveling, efficient working, easy to operate.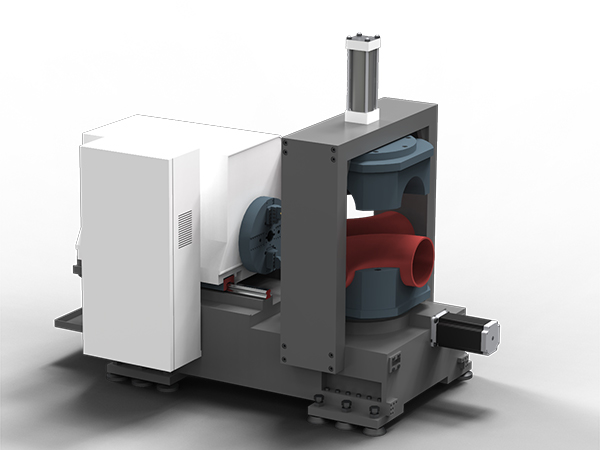 FEATURES
4 models are available in pipe OD:50-914mm
Cold cutting, don't influence the pipe's material
High speed beveling, feeding control by program
Special used for pipe elbow,pipe fitting and short pipe
Can be used for T Junction and four-way junction
Exclusive CNC system, make everything become easier.
Varity of beveling shape: "U", "V", "J", double "V", compound bevels.
Independent servo motor driven, can realize feed and retract with correlation, differential, independent.

BEVELING SHAPE


*other beveling shape, angle and pipe material, please declare before order

SPECIFICATION:
Model
Working Range
Wall Thickness
Rotating
Motor Power
OD mm
Single mm
Multi mm
rpm
Cutting
Clamping kw
Up/down kw
Feeding kw
X12
50-325
4-25
50
0-50
5.5
1.5
0.55
X18
130-450
5-25
50
0-42
7.5
1.5
0.55
X24
323-610
5-25
50
0-35
11
1.5
1.5
X36
610-914
6-25
50
0-25
11
1.5
2.0
*Above parameters just for reference only, not acceptance criteria
Power requirement:380V,50-60Hz,3P
Feeding travel:100mm
Tool post quantity.:2 or 4
Angle deviation:±0.5


TOOLING
Options of form type and insert type tools
Available for cutting all thickness and material of pipe and beveling at any required angle.
Insert Type

Material: Tool holder:40Cr ; Insert: Carbide
kinds:Beveling,Double beveling,Compound beveling
Angle:0°,30°,37.5°,double 30°/37.5°,37.5°+10°